Your Own Private Paradise!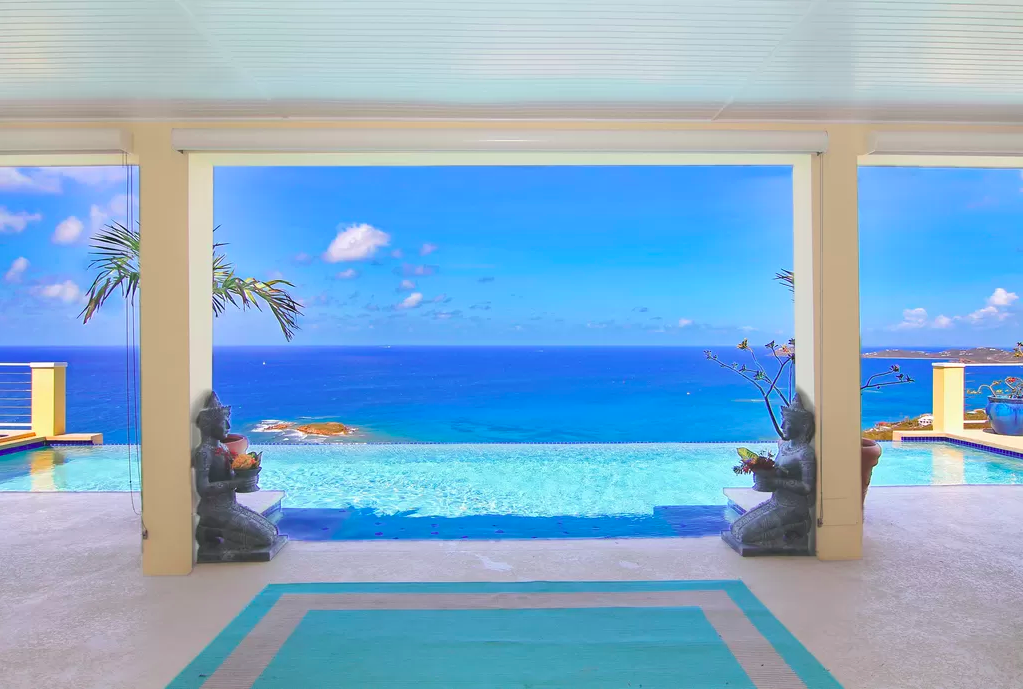 This most impressive hilltop estate offers a grand sense of scale; privacy and pure blue vistas of sky, sea and pool. In gated Green Cay Plantation on the South Side of St Thomas. Watch the Cruise Ships come and go with sweeping panoramic views. One level, all beautifully detailed and furnished, offering wonderful panoramas from all windows. Villa Green Cay is fully air-conditioned or you may prefer to open windows and enjoy the cool ocean breezes. Just outside is the infinity swimming pool with plenty of shade for outdoor dining or just curling up and reading a good book.
There are 3 Bedroom suites, all have King size beds and open up to the pool deck and breathtaking sea vistas punctuated with islands in the distance.
BEDROOM & BATHROOM
Bedroom 1: King size bed, En-suite his-and-hers bathroom, Air-conditioned
Bedroom 2: King platform bed, En-suite bathroom, Air-conditioned
Bedroom 3: King size bed, En-suite bathroom, Air-conditioned

The main room offers a well-equipped kitchen, Dining room, half bath and Living room.
Villa Green Cay offers lushly landscaped grounds; the moment you enter, you'll be enchanted with the beautifully designed floor plan and its inviting interiors, elegant and superbly equipped but ultimately comfortable and relaxing.
---
Condo on the Beach!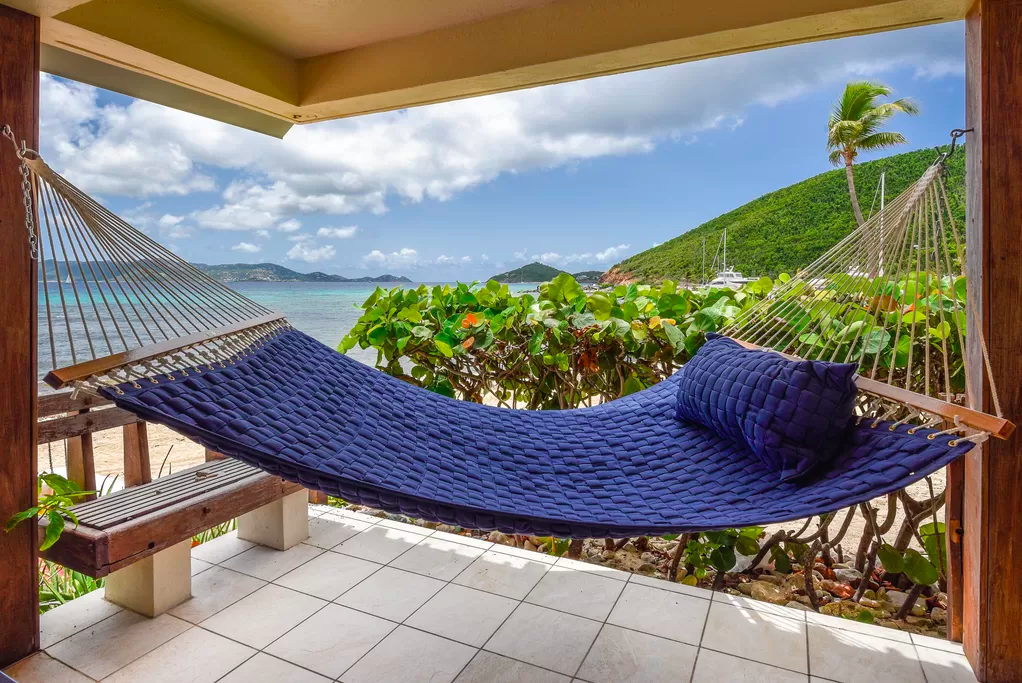 You read the title correctly. This is a two-bedroom, two-bathroom remodeled condominium walk out unit. Meaning it sits directly on the beach with access directly to the beach. How? Because this is actually two condos that have been remodeled and joined together to make one, and is the only one like it at the resort.
Instead of each side having its own living room and kitchen, this allows for one large living room and one large kitchen. So it gives much more space than simply getting two adjacent studios. Additionally, the wall on the porch has been removed, making the outdoor space twice as big too. This is also a corner unit, which has the benefit of additional windows and doors on one side, along with a larger porch on the corner side that partially wraps around the side.
Each bedroom has its own bathroom and a large closet space. They can be completely separated from the living room and kitchen, unlike the studios that simple have sliders for separation. One of the bedrooms also has a washer and dryer which we do leave available for guests' usage.
The large kitchen is on the corner side of the building, allowing extra windows and natural light. The bedroom on that side has the same, as does the bathroom. The kitchen is fully stocked with everything you would need, including an extra-large refrigerator that can easily handle the needs for the guests.
The living room also provides more seating than the typical studio as it doesn't have a kitchen taking up part of the space. So it does not feel cramped whatsoever, it is much more like a home.
Both the kitchen and living room have large sliders that open to your own private patio, part of which is covered and part which is not. There is a large dining table outside, as well as comfortable couches for lounging. The patio steps directly onto the beach!! And just a few more steps then you are in the water. This is an extremely private location as well. It is so difficult to describe how wonderful it is to sit right on the beach while listening to the waves against the sand. It never gets old and is why people live and/or visit the islands.
Sapphire Beach Resort is only half a mile from the town of Red Hook, which has numerous restaurants, bars, shops, and the ferry to St John or the British Virgin Islands. The beach itself is great. They have a large "double level" pool, which is just off this particular building. The tennis courts are no longer usable, unfortunately, but there are several other options for such close by. There is a watersports desk on the beach where you can rent snorkel gear or various water toys like stand up paddleboards. Lounge chairs are included with the rental as well.
People have asked in the past about restaurants. Unfortunately, the main restaurant space at Sapphire has been closed for years. We do have what is called the Banana Cabana, located between buildings B and C. It is a small outdoor grill that serves breakfast and lunch, but closes by sunset. There is also the Sapphire Bar and Grill which is located at the adjacent complex just up the hill but within short walking distance. But the best close options are in Red Hook, where you can choose from many many choices. And remember, the kitchen here is extra large and accommodating, so you may find yourself wanting to use that more than you expected.
A rental car is not necessary, though it sure would be desirable to have one. They have what is called SAFARI BUS here, which are open-air taxis. These drive right by the entry to Sapphire and only cost a dollar. But with a car, you get the freedom to go where you want when you want. And with a two-bedroom condo, you likely have four people which makes it very affordable.